These are a great example of what's so appealing about using the Judge Dredd universe as the setting for a tabletop game. There's just years and years of really inventive content that builds the world. In Mega City One, the bored citizens turn to one ridiculous and/or dangerous fad after another to pass the time; one of them is to put on as much weight as possible and then engage in competitive eating contests.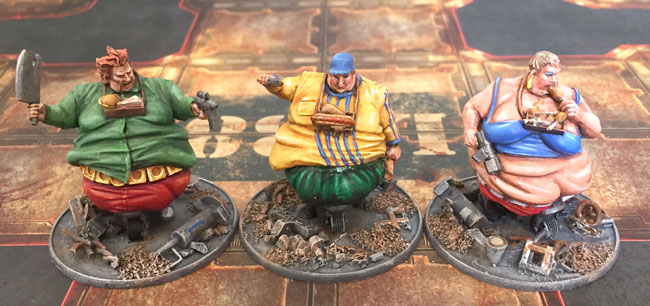 As part of my ongoing 'Finish a model per day' effort, these three have just rolled off the production line. They are part of Warlord's new range and these multi-part resin models are just perfect. Full of character and detail from the little trays of food to the flab bulging over the belly wheels.
The Fatties best game move is to roll forwards on their belly wheels and deliver a crushing close combat attack – something which worked to deadly effect in one of our recent games.