In preparation for Space Hulk I have dug out some hybrids, so I thought I'd photograph them for the site (a couple are a bit blurred – sorry about that but I couldn't be bothered to set up again after I found out). One of the more recently painted has a 1999 date underneath – some of the others were probably done around 1990 when they first came out. I think Bob Olley's style works really well on these. The big, bony faces, the intricate and creepy looking armour give a good alien feel to them.
The empty hand of  the left hand hybrid is actually a claw from a damaged Cold One. The one on the right has Imperial Guard arms with the pouches cut off. I've gone with the classic purple and blue colour scheme but very de-saturated colours because brightly coloured genestealers look a bit ridiculous to me.
When I first assembled these, I thought the fat end of the conversion beamer was the front (like a heavy plasma gun). I later saw a picture that showed the spike was definitely the front, and had to turn them round. The left hand one is one of the earlier paint jobs – a bit cruder than the others.
The edging on the left hand one's armour is Tamiya copper. A really good bright copper colour that can be toned down with inks if required.
Finally my only painted plastic hybrid from the Genestealer expansion. These and the Terminator librarians from the same box really are awful models. I've stuck a few extra bits on the armour to give it some detail and then done my best to disguise the blobby cone shaped head with some shading and patterning. Not really worth the effort of painting, frankly.
UPDATE
As this bit about the plastic hybrid seems to have attracted the most attention, I've taken a couple more photos to show more closely what I did. Here he is next to a standard one. I've added a gun metal coloured pipe and an extra bit of detail to the top of the carapace. I also realised that the head had been carved back quite a bit, as the basic one is very bulbous. (I converted this over a decade ago, so I don't remember actually doing it). The sculpting of the shoulders is very weak – the arms are obviously stuck on to something that doesn't really look like clothing. To hide this joint, I cut thin strips of plastic card into an interesting shape and covered them up.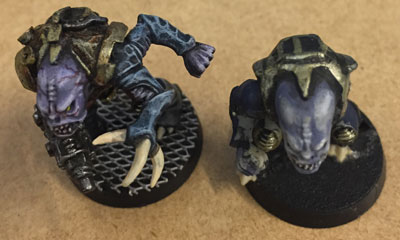 Here's a view from the back – you can see little discs have been added to the right shoulder.