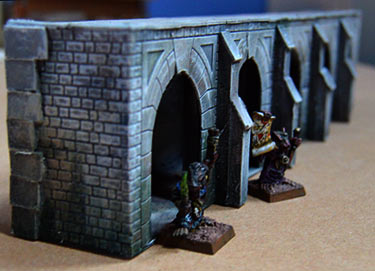 When moulding Linka blocks, I always make a full batch, because it's as easy as leaving some out. Some of the resulting elements are a lot more useful than others; some are great blocks but are difficult to use in significant quantities. The large 2×2 castle door is a good example of this, so I ended up with a pile of them.
Inspired by the Mordheim stuff on the Necromundicon site, I thought I might have a crack at some basic 'foundations'. (Those in search of further inspiration might also want to have a look at the cityscapes on Shifting Lands and the Mighty Pages). The first piece has taken the form of this colonnade, the idea being that it can be placed along the edge of a foundation block in order to permit a level change.
The base is a piece of heavy card, with a rectangle of foamcard along the back to give it some strength. The arches of the colonnade are Linka castle door pieces with the doors scored gently but repeatedly with a scalpel till they fell out. These were stuck in next, along with the side pieces, which are two standard stonework blocks on each side. To give the colonnade sufficient depth, the blocks were glued to the foamcard back by the tips of their teeth, which left a row of small square holes. These were covered up with card rectangles.
Another piece of foamcard was used as the top, glued in flush with the top of the arch pieces. Card rectangles were used to make edge stones.
Finally buttresses were cut from foamboard, in two sections. The tops were cut off at an angle, and then capped with card to hide the rough foam exposed by the cut.
The finishing touch was to paint the card 'stones' with tile adhesive, using a very old brush, to give them a gritty texture. A thicker layer of tile adhesive was applied to the top.