Hi, sorry I haven't posted for a while. Health and 6mm Napoleonic distractions.
Was looking to apply static grass to bases, wanted it to stand upright, but didn't fancy spending £40 on something I wouldn't use an awful lot. Found this article; https://www.thespruce.com/build-grass-applicator-model-train-scenery-2381741
I went to Poundland and got a bug zapper for a whole £1, to wilkos to get a metal tea strainer for 80p, and to a hardware store for an alligator clip – 65p.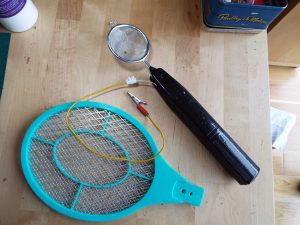 Don't have a soldering iron, so used a small connector to lengthen the cable for the Alligator clip. The tea strainer had plastic handle within the wire handle. I removed that and used a pair of pliers to shorten the wire handle, then cut the plastic insert a bit shorter and re-inserted it between the remaining prongs of the handle, securing it in place with some electrical tape. I bared the end of the red wire in the bug zapper, wrapped it round one of the prongs and used more tape to secure it. The other terminal in the zapper had 2 white wires. I cut one away completely, bared the end of the other and used an electrical connector to extend it with another piece of wire and put the alligator clip on that. Didn't need to pack the handle with wood – made a hole in the plastic handle of the tea strainer and screw the zapper handle back together through  it, which seems to hold it well.
Popped in some batteries, and it worked! Popped some blobs of pva on a plastic bag, attached the alligator clip to the bag, put some static grass in the tea strainer bowl, turned the zapper on and shook the tea strainer over the blobs to deposit the grass. The stuff I have used is very short, but I am very happy with the first go.