©1999-2003. All rights reserved.



Indian Mutiny figures descend from a cliff top village.
Construction Process
1) The main components of a cliff section are shown here. Note that the top piece is smaller than the bottom piece.
2) Glue the main pieces together with PVA glue.
3) Use scraps of polystyrene to rough out the cliff face itself.
4) Cover all the polystyrene with filler. The filler used here is ?????.

You may wish to make a step section like the one shown here to allow a route between levels.

5) Now apply flock or sand to give the ground texture and paint the front of the cliff face.

Note the horizontal colour banding representing variations in the rock colour.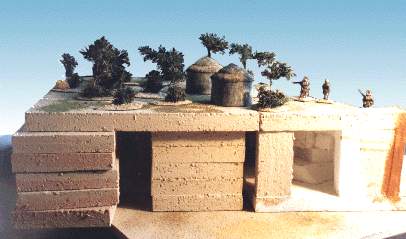 To provide the ground at the top of the cliff, you will need blocks of polystyrene like these, which lift standard scenery blocks, like the one on the left, up to the level of the cliff top.